MEYER LEMON / FLORAL / RASPBERRY SHERBET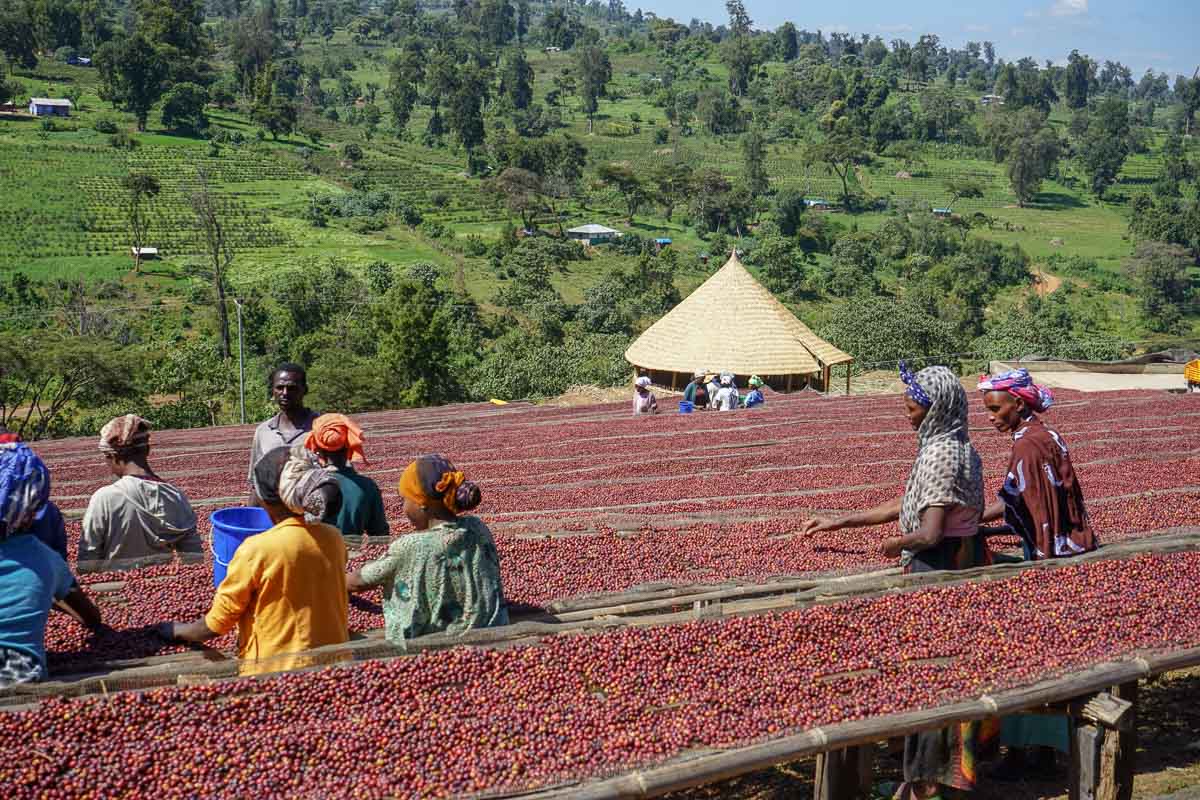 MEYER LEMON / FLORAL / RASPBERRY SHERBET
COUNTRY / Ethiopia
GROWER / Mustefa Abululesa
REGION / Gomma District
PROCESSING / Natural
ELEVATION / 2100M
Koye Farm is a gem within Western Ethiopia's Gomma District (near Agaro) and the larger Oromia region.
Mustefa Abalulessa Abagibe not only owns Koye Farm, he carefully processes his coffee cherry down to high quality seed that is then distributed to highland farmers the region over. When touring Mustefa's facility one can marvel at the rows and rows of dried parchment (seeds) covered in fine ash to inhibit mold growth while in storage before planting.
Before much of the undergrowth was cleared to farm coffee, this jungle parcel at almost 7,000 ft elevation was a hideout for Mustefa's father, Abalulessa, a guerrilla fighting against The Derg - the oppressive military government of the time. Having failed to capture him and lost soldiers trying, the government turned to the local community with a bounty. His health deteriorating and near death, Abalulessa turned to an old friend and, as thanks for nursing him through his final months, told him to tell the government he had killed him, and thus benefit from the bounty. Abalulessa died in 1977 (when Mustefa was two) and as part of an amnesty and reconciliation program, the government gave the land of the current farm to Mustefa's family, which he now farms (along with another plot 7km away).
**Don't Forget! These beans are green right now! We need you to place your order, so we can roast it especially for you and ship FRESH on Thursday . Wait, tell me more…

At Treeline we like to keep it fresh. All coffees ordered are roasted, packaged and shipped on demand each week on Tuesdays. Orders must be placed before 5 a.m. PST in order to have your coffee shipped that week, because as much as we like to think we are awesome - we are not awesome enough to predict what you might be ordering.

All orders after this time will ship the following week. If this seems like a SUPER long time to wait for caffeine (don't worry, we get it) please leave us a note and we will do everything in our caffeinated power to sort you out.

Due to our cafes being extra needy, we roast some coffee other times in the week as well - if your coffee happens to be the same coffee that they are getting, consider yourself a winner-winner-chicken-dinner because we will probably ship earlier then we just told you we would.